In order to give your projects every chance of success, Atelier m'alice has chosen to work with trusted partners. We invite you to discover below the range of companies who accompany us and you in your daily life.
Millers for the raw material of our training courses
During the atelier m'alice training sessions, we work with organic flours from the Minoterie Suire. Our instructors also work with high quality flours produced by the Minoterie Girardeau flour mills, the Minoteries du Château,, Moulins Fouché, Minoterie Corouge and Moulin Batigne. 
We would like to thank these trusted partners, who have been with us since Atelier m'alice was founded in 2012.
Moreover, our three training centres are located on the premises of some of these mills, namely in Boussay (44), Itteville (91) and Ernée (53).
Experts to support you in your daily life
Whether you are retraining or already a baker, we would like to present our partners ACTE Conseil and ABC :
ACTE Conseil is intended for people wishing to set up or take over an artisan bakery business.
Whereas ABC Artisan Boulanger Convaincu, is for artisans who are already established, who want to enhance their work and challenge themselves to develop.
ACTE Conseil, for the creation of your bakery-pastry shop
ACTE Conseil has been a partner of atelier m'alice since its inception. ACTE offers bespoke support for the creation or takeover of a bakery – pastry shop. 
Feasibility study of your project and advice (financial, accounting and technical).
Help for the launch of your project (bank file, business plan, etc).
Concrete support for the opening of your shop (mandatory signage, sales pitch, information on hygiene, allergen tables, etc.).
Development support, especially if you are setting up several bakeries.
Moreover, many people who have completed our CAP Baker qualification were supported by the ACTE team. François-Xavier LOT, for example, opened his bakery less than 6 months after obtaining his diploma.
As the perfect ally for project leaders launching their bakery and pastry business, we are proud to work with ACTE Conseil !
ABC, f
or committed bakers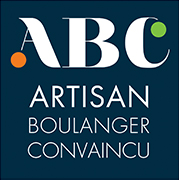 The ABC approach meets the needs of artisan bakers who advocate home-made products and free craftsmanship. ABC guarantees a continuous improvement process and support in the management of your company. You can discuss the legal, HR, social and financial management of your company with the person in charge of this approach.
With ABC, focus on the essentials :
Understand the trends.
Promote home-made products, without additives or preservatives.
Support virtuous farming sectors.
Partner organisations for funding
You can pay for part of your introductory training or advanced bakery training with your CPF, Professional Training Account. This involves certain administrative procedures. Here is a list of our partners  to help you finance your training courses or even your CAP, if you wish to retrain.
Marie, Atelier m'alice manager, can support you with your financing requests. Do not hesitate to contact her with any questions relating to training or financing.